Overview Graphic Design Training Program
Enrolling in our graphic design course will set you on a transforming path where you'll hone your artistic skills and pick up the technical expertise required to succeed in this competitive industry. Your productivity and creativity can both be improved by receiving a graphic design certification.
In order to function at your best, it can assist you advance your profession and build your skill set. Don't miss out the chance to design a prosperous future. Learn Graphic Design with us in depth and take the first step toward a rewarding and in-demand career.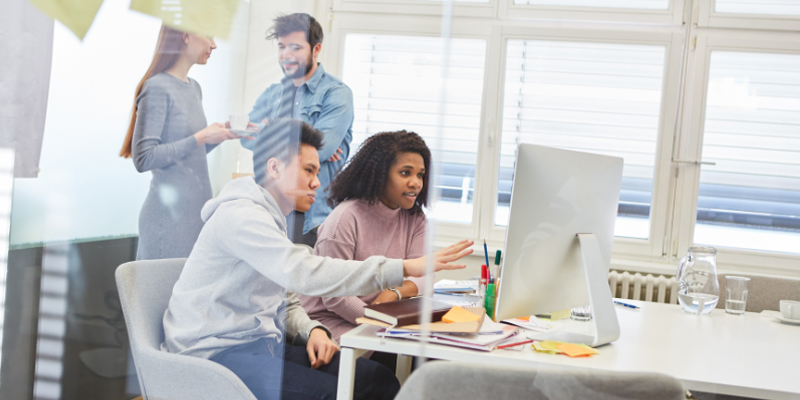 Softwares Includes:
• Adobe Photoshop
• Adobe Illustrator
• Adobe InDesign
You can acquire and develop the fundamental characteristics and skills required to perform as a qualified Professional in a variety of sectors with the aid of our graphic design training. We put a lot of effort into providing the training using a special teaching method that our students find more agreeable. This comprises 36 hours of classroom training with flexible scheduling. Personalized training with instructors that are at the top of their fields and course material that meets industry standards.
Graphic Design Course Online
1. Getting started
Image copyright
Digital images
The photoshop environment
2. Working with image selections
Selection techniques
Modifying selections
3. Working with layers
Creating layers
odifying layers
Using type layers
Using layer effects
4. Adjusting images
Image modes
Hue and saturation adjustments
Levels adjustments
5. Retouching images
Repairing image defects
Removing image areas
Painting
Using filters
6. Resizing images
Image resolution
Image canvas size
7. Preparing Finished images
Image for Web use
Image for print use
Printing images
Importing images
8. Working with layout
Customizing Photoshop
Applying selection properties
9. Working with vector graphics
Working with shapes
Working with paths
10. Working with colours
Histogram palette
Adjusting colours
11. Working with layers options
Opacity and blending options
Managing layers Using layer effects
Using layer styles
Using adjustment layers and layer comps
12. Using channels and masks
Working with channels
Working with masks, advanced Masking options
13. Using Filters
Using Noise and Rendering filters
Using Brush Stroke filters
Using Texture filters
Using the Liquify filter
14. Automating tasks
Using actions
Using Automate commands
15. Preparing graphics for print and the web
Preparing graphics for print
Preparing graphics for the Web
1. Getting started
The Illustrator environment
Navigation
2. Creating a simple illustration
Creating a document
Creating basic shapes
Manipulating shapes
Exporting an illustration
3. Applying basic colour
Applying colour
Stroke options
The Eyedropper tools
4. Drawing paths
Raster images
Basic drawing
Selecting and editing paths
5. Working with text
Adding text
Altering text
6. Using Layers
Creating Layers
Manipulating Layers
7. Working with colours
Swatch libraries
Gradients and Transparency
8. Adjusting typography
Flowing type
Formatting text
Editing text
9. Manipulating paths
Path commands
Masks
10. Enhancing fills and strokes
Multiple fills and strokes
Colours Patterns
Brushes
Symbols
11. Transforming shapes
Using transformation tools
Using envelopes
Liquifying shapes
Applying 3D effects
12. Effects and graphic styles
Effects Graphic styles
Perspective drawing
13. Converting raster images to vector art
Tracing raster images
Using Live Paint
14. Printing illustrations
Colour management
Print specifications
Colour separations
15. Web files and graphs
Slices
Web graphics
Graphs
1. Getting Started
The Adobe InDesign environment
Preferences and defaults
2. Basic Documents
New documents
Text frames
Graphics frames
Custom colours
3. Guides and Master Pages
Object positioning
Master pages
4. Typesetting
Text frame threading
Paragraph formattin
Styles
5. Modifying Items
Text frame options
Graphics Grouped items
Layers
6. Finalizing Documents
Printing and exporting documents
Preparing for commercial
printing
7. Efficient layout Document setup
Tint and gradient swatches
Object libraries and snippets I
tem spacing
8. Vector paths
Creating vector paths
Vector paths and pictures
Vector paths and type
9. Typography
Manual type resizing
Automated styles
Graphics in typography
Precise leading control
Composition, hyphenation
Horizontal spacing
10. Layer properties
Transparency
Object styles
Transforming objects
11. Tables
Creating tables
Changing table structure
Formatting tables
12. Text Editing
The story editor
The CS Review panel
Special characters
Column, frame, and page breaks
13. Long Documents
Sections
Tables of contents
Indexes and cross-references
Books
Footnotes
Why you should become a Graphic Designer?
Anyone who wants to improve their graphic design skills
Candidates with basic computer abilities and an interest in graphic design career
Professionals interested in learning about various graphic design software
Job Positions
Graphic Designer
Digital Graphic Designer
Lead Graphic Designer
Creative Director
Photo Editing Artist
Why Delphi?
Certified & Professional Trainers
Our faculties are qualified & industry experts with significant experience in their domain.
Live Instructor Led Training
We conduct live classes through GoToMeeting, Zoom and other live meeting software.
Cloud e-learning portal
Get live class notifications, view class recordings, or practice questions all in one access.
Flexible Batch Timings
All our batch schedules are designed to support work while you study principle.
Placement Assistance
We guide you to benefit from the newly acquired global professional certification.
Reputed Study Materials
We provide internationally reputed study materials with our customized success slides.
Graphic Design Course FAQs
The course duration of the Graphic Design course is 36 hours of classroom/online training with flexible classes.
There are several job opportunities after pursuing a Graphic Design Course. Graphic Design certifications offer job roles as a graphic designer, lead graphic designer, photo editing artist, digital graphic designer, and more.
There are no prerequisites to pursue this course. Anybody who is interested to advance their skills in Graphic Design tools can join the course.
Graphic Design professionals are required to have a Graphic Design Specialist certification and basic computer skills.
Graphic designers create visual concepts, using computer software or by hand, to communicate ideas that inspire, inform, and captivate consumers. They develop the overall layout and production design for applications such as advertisements, brochures, magazines, and reports.