Certified Information Systems Security Professional
4 Days Weekend Classroom Course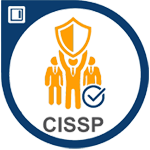 A Certified Information Systems Security Professional (CISSP) is essential for security professionals to be successful in their careers. Many employers value the CISSP Certification in Dubai for its designation as a standard for security professionals. While the investments in time and money are substantial, the career rewards can be respected as professionals gain a Cyber Security Expert credential.
Why CISSP Certification in Dubai?
CISSP certification signifies your extensive working knowledge of how information security works.

Becoming CISSP certified automatically enhances your professional credibility and the ability to market yourself to a full scope of different IT Security job roles.

According to the Global Information Security Workforce Study, CISSP certified professionals earns 25% more than their non-certified counterparts on an average globally.

CISSP Certification unlocks exclusive benefits as an (ISC)² member, which include professional networking and idea-exchanging opportunities.

Companies are having difficulties in maintaining the security of their organization's critical information. That is why having a certified Security professional on their side is very important.

Here are three benefits of becoming CISSP certified from an employer's perspective–

Hiring somebody, who is CISSP certified instantly increases the Credibility and value of your company on a global scale.

Owning a certified CISSP professional on your team, validates your organization's years of experience and commitment to the IT security industry.

Working with a CISSP professional satisfies certain certification Mandates that are required by many clients and subcontractors.
Eligibility for CISSP training course in Dubai?
Professionals with at least 5 (five) years of cumulative, paid or full-time work experience in two or more of the eight domains of CISSP Certification can take the CISSP Exam.
Professionals with less or no experience can also take the CISSP Certification in Dubai and become an Associate of (ISC)². An associate of (ISC)² then have Six years to earn the required work experience.
If you have a four year college degree or an additional credential from the (ISC)² that can satisfy one year of the required work experience.

Check the detailed Work Experience requirement here

Upcoming CISSP training course in Dubai

| Training Type | Start Date | |
| --- | --- | --- |
| Classroom | 3 Apr 2020 | |
| Live Instructor-Led Online | 10 Apr 2020 | |

Job Roles after you Pass the CISSP Certification in Dubai

The CISSP is an ideal cyber security certification for experienced security professionals, practitioners, managers or executives wiling to prove their skills in a wide array of cyber security practices and principles, these are a few positions to expect after your CISSP Certification in Dubai.

Chief Information Security Officer
IT Director/Manager
Information/Privacy Risk Consultant
Information Security Manager
Security Consultant
Security Analyst

Director of Security
Security Systems Designer
System Administrators
Security Architect
Network Architect

8 CISSP Certification Domains

Security and Risk Management.

Asset Security.

Security Engineering.

Communications & Network Security.

Identity & Access Management.

Security Assessment & Testing.

Security Operations.

Software Development Security.

CISSP Training Course Highlights

Online and Classroom Training

Learn from CISSP Certified & Industry Experts and Prepare yourself for CISSP certification.

Best CISSP Study Material

Hard Copy and Soft Copy of Study Notes

Online CISSP Courses Materials

Topic Wise study material in the form of Presentation, Case Studies, Practical Exercises and Quiz or Assignments with detailed answers and explanation.

24×7 Online CISSP Course Forum

Doubt solving forum to interact with faculty & fellow students.

Assignments & Cases

Work on real time cases from different Domains.

24×7 Online Access

24×7 Access to CISSP Course Material (Unlocked Excel Models, Presentations, etc.)

CISSP Training in Dubai FAQs

Frequently Asked Questions about the CISSP Training Course in Dubai

Upgrade your Information Security Career

CISSP Certification can give you a big leap in your Security Career

Start Today